EARTH DAY 2013--We Are the World; We Make the Difference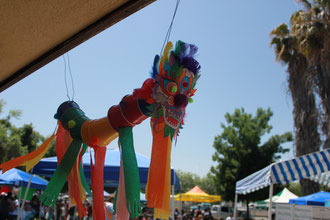 Our EIGHTH annual Earth Day Celebration will be happening on Friday, May 10, 2013.
--Why Earth Day 2013? To focus on earth & living-thing-friendly ideas and solutions.
--Who's invited: students/teachers in this area and members in the community-at-large.
--Where: Prospect Education Center, 645 N. Prospect Street, Porterville, CA 93257
--When: Friday, May 10, 2013 from 10 AM 'till 2 PM
--Contact: Steve Reynolds, Earth Day Coordinator: email * phone: 559/782-7095x4611
--Who will be presenting? Students from PEC and businesses and individuals from the area. We usually invite between 50 and 100 folks to present
--I'd like to let you know I'm coming...CLICK here @ our Facebook site and post.
--I'd like to organize an Earth Day celebration at my school--CLICK here for information. PEC Earth Day archive: click. *** History of Earth Day.
--Booth Visitation DCW Assignment--CLICK.
--Application for Student Science Committee--CLICK.
* PRESENTING THIS YEAR--not on the list and you'd like to present? CLICK HERE
--1/VIEW Partnership (Valley Innovative Energy Watch)--tips & tricks for saving energy  and money at home, school & work.
--2/US Weather Service--The Weather Around Us
--4/Taking care of sheep...
--5/Electronic Waste Recycling--What to do with old electronics...
--6/Porterville City Library--Planting & Starting a Seedling
--7/SCICON/Circle J Norris Ranch--Be a Water Caretaker!
--8/Quercus Landscape Design--Creating an Earth-Friendly Garden with CA Native Plants
--9/Culligan Water--water trailer
--10/Wild Ones--Jack the Owl & raptors--touch the owl and raptor facts.
--11/City of Porterville Wastewater Treatment--Where does the water from your toilet go?
--12/Sequoia Community Corps/Recycling Specialists--Going Green w/ Rocky Racoon
--13/Tulare County Farm Bureau--Beyond the Farm--seed planting activity.
--14/One Pampered Pig--information about pigs...
--15/Local Wildflowers--identification and information
--16/Insuring for Life--How insurance can help make things happen on our planet...
--17/Tulare Works--Healthy eating and CAL Fresh program.
--18/PSW Boomerang Recycling--What can we recycle?
--19/Science-Dipity--recycling "make & take..."
--20/Solar Oven--student presentation
--21/Water Works--student presentation
--22/Recycling--student presentation
--23/Pollution--student presentation
--24/History & Art of Earth Day
--25/Roadkill Cafe/Natural Recycling--condors & vultures
--26/Earth Day Face Painting--
--27/Earth Day Rub-on Tattoos...
--28/FREE ice cream
--29/FREE water
* NUMBER OF CLASSES ATTENDING--
--28 classes currently registered from Jefferson Elementary in Lindsay and, in Porterville-- Citrus South Tule, Belleview, Olive Street, Monte Vista, West Putnam, Roche Avenue and Vandalia Schools...there are still a few spots available for classes; email Michelle for details.
* DONATIONS--
--Walmart Porterville Distribution Center--money for expenses AND items to give to teachers & students!
--Knight Transportation, Tulare, CA--bottled water for attendees
--Clifton's Nursery...a tree each to attending schools.
---Bags for students! Jamba Juice, Save Mart, Walmart, Home Depot, Tucomes Credit Union, Target, Automobile Association of America (AAA), Union Bank, Food4Less, Barbara Hughes and...more to follow...
Friday, May 10, 2013--THANKS TO ALL WHO MADE THIS DAY A SUCCESSFUL LEARNING EXPERIENCE!!!
Updated: 10 May 2013  *** Google Earth Day doodle...